Search engine optimization, lead generation, and content marketing are the backbone of the service offerings at Donovic Media. Our supplementary services are offered alongside our core services and are customized to your needs.
Our Supplementary Services Include:
Web Design
Your website is the face of your brand. It's who you are, what you do, your values and mission all rolled up into one snap judgement. Your website needs to be the best it can be– every word, color and image tells the world more about you than most people ever realize.
With wonderful web design, you can have a stunning website that's not only functional, but SEO friendly. Whether you're a new company ready to hit the ground running, or an established brand looking for a facelift or an overhaul, you've come to the right place.
A Complete, Custom Website
This isn't some mass-produced template. With your web design, you get a custom-built web site made specifically for your needs:
A one-on-one consultation to discuss your brand, business needs, and mandatory deliverables needed for a top notch website.
A strategic game plan to build, design, and customize a website that achieves your goals.
The basic training needed to use and thrive in the WordPress platform.
A follow-up consultation to ensure everything with your new website is running smoothly.

If seeing any type of coding gives you anxiety – relax. Let us worry about the custom coding that comes with building a site to your vision.
The Value of WordPress
WordPress is so much more than just a blogging platform. Some of the biggest brands like TechCrunch and BBC America use WordPress, and Donovic Media knows its way around. We like to be WordImPressive, so to speak.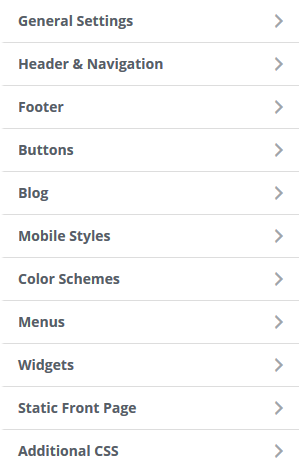 WordPress makes it easy to tweak things to your liking or to add things. That is why it's our CMS of choice for ourselves and for our clients.
Our Web Design Services In A Nutshell
Gone are the days of cumbersome front-end website management. Donovic Media will not only build your site but will help you with getting your site up and running. You can't expect someone to drive a car that well if they didn't take a driving course. Same thing with website management. You can feel confident knowing we've got your best interest in mind when creating the perfect website for you.
Consulting
Every new word, object or living thing causes a reaction in your brain. Initial judgments drive behavior. This happens milliseconds before we often realize, and a lack of assessing it costs companies countless amounts. Each facet of our consulting services are designed to maximize those positive reactions- to ensure your brand is at the top of its SEO game, and you get the best results from each set of eyes on your site.
Our sensory intake is as primal as it is complex, and it plays a major role in everything we do. Your online presence is not immune, either; every aspect of your marketing presence. Each drop in your bucket matters if you want to make a big splash. For business owners with some SEO experience or teams dedicated to search, outside consulting strengthens your vision for your SEO goals. In-house teams may be brilliant, but often politics and conflicting agendas can damage the overall, synergistic SEO potential.
If you're questioning your strategy, or need a third party view, Donovic Media provides:
SEO Strategy Development
We tighten up and allocate your SEO budget so that every dollar gets results. Everything from focus-areas to staffing reviews. A good strategy can easily become a great strategy with the right set of wheels in motion. Once your vision is set in motion, we set you up to soar.
Software Recommendations
Many digital agencies won't tell you that software isn't always necessary to do SEO work. However, however, certain software will make life much easier. With the appropriate software for your needs, our team can cut hours of tedious SEO analysis/feedback down to minutes, sometimes even seconds.
We use the most powerful software for our SEO endeavors. We also recommend the right tools your company needs to thrive online. We use third-party software, and we don't get any kick-backs or commissions, nor do we "sell" it to you; we simply use what works best because it works best
Quality Assurance
Countless agencies claim they "know SEO," but how many will vouch for the quality of their work the very end? Along with execution, we'll guide your team to maintain search engine rankings with best practices and quality assurance.
Staffing Review
Who's working on your search results? What is their background with SEO? We're certainly not here to downsize, but simply create efficiencies for your company. That means reviewing your staff, finding training opportunities, and recommending new positions to help meet your goals.
In essence, we provide consultancy in every service that we provide and more.
Social Media
Social media is still kind of like the Wild West, and we are all pioneers trying to figure out how to make the most of the real estate. A strong, engaging social media presence in 2018 is crucial for almost every brand, but what does social media "success" look like. What determines whether your efforts generate fans or "fails?"
Success on social media doesn't have a singular definition; each brand and social channel has its own flavor and should have vastly different expectations.

If you choose to run an ad on Facebook, for example, you can learn valuable demographic insight which can be beneficial to your future social media endeavors.
The brands that thrive on social media are the ones that treat each platform the way it was intended… not like a billboard or interactive ad, but a place to cultivate authentic social interaction. What is the state of your social media? Are you making a viral splash, generating a new fan base, engaging the right discussions and making the most out of your engagement potential?
The team at Donovic Media is poised and ready to help you create lasting social strategy that amplifies your success, helping make you the talk of the town. Our social media veterans have experience creating social media profiles and strategies that span the globe. From Fortune 500 companies to local, niche restaurants, we have yet to face a campaign where we can't make waves.
Audit
We'll comb through your social media accounts and their history to figure out what's working, what isn't, and find new opportunities for improvement. Similar to a website audit, there are many components to consider when auditing your social media profiles.  However, social media audits have different angles and goals to consider, and our blueprints for success reflect every social nook and cranny you'd like to explore.
Optimize
We'll make sure every setting, every preference, every detail is set to optimize your social channels so they can effectively reach your audience. This could mean simply adjusting your approach or a complete overhaul.
From Facebook to Twitter, LinkedIn, Pinterest, YouTube and MySpace (just kidding), we will carefully wade through your potential to thrive on a social site. We will also, depending on your goals, comb through and recommend the best combinations of organic campaigns, ad campaigns or an optimized mixture of both.
Strategize
Here is where we bring your social visions to life. Our social strategy blueprints are uniquely tailored to you, your message and the climate of the platform. We don't simply see social as a check-box, or only a numbers game; we creatively make the most of what it's meant for– socializing with people.
We create, implement and manage a plan for you. The best social strategies are proactive, not reactive. Whether you look at keeping your strategy completely organic and simply sharing new posts, deals, and having a place for customers to leave reviews or ask questions, or are planning on including paid advertising as a part of expanding your reach, we'll fine-tune the best strategy for you.

Facebook is just one platform you can engage in paid advertising if you choose to include that as part of your social media strategy.
Paid Advertising
Traditional advertising is not the empire it once was, but that doesn't mean it can't make a splash. While the phrase "advertising is dead" has been buzzing around our ears for years now, Donovic Media doesn't see it that way.
We don't pretend like paid advertising is something it's not, which makes us in a unique position to make the most of yours. Our disruptive approach pairs your organic search campaigns, in all their glory, with creatively tailored ads to help make your message a tour de force.
Banner Ads
The most traditional form of online paid advertising can be relevant if it's interesting enough. When done strategically and paired with quality, relevant publishers, banner ads have a big impact on the overall traffic to your company's website.
Pay Per Click
Pay-per-click (PPC) ads are commonly associated with Google AdWords, which places banner ads are relevant websites and charges clients based on how many times that ad is clicked (call "clickthrough rate").
AdWords is an endlessly complex world of web-fare to navigate, and can be a major budget-suck for small business, as it requires vigilance and lots of tweaking. While unconventional, our less-is-more approach to AdWords helps save money, increase ROI and synergize with our multi-pronged approach.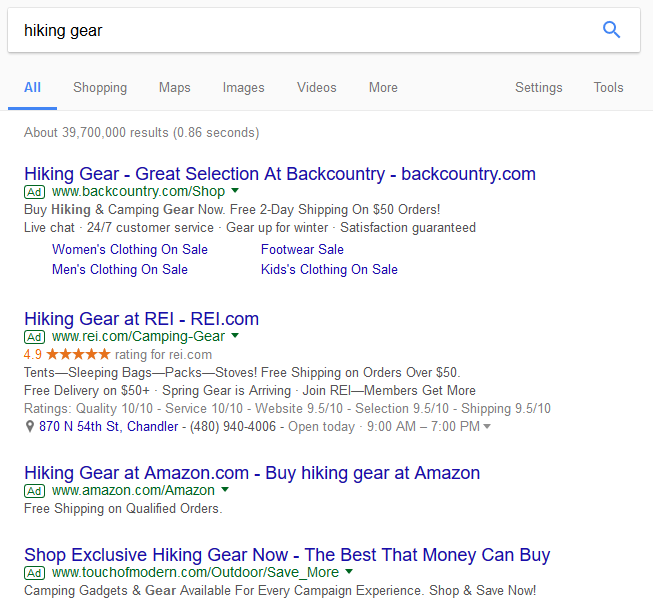 We've all seen the first ads that appear at the top of your search engine results page. PPC terms can range from vaguer (and highly competitive) to more niche and unique (less competitive and more cost-efficient).
Paid Social Media
Growing your brand with an organic social presence may not parlay into direct leads and sales, but it's worth the time and effort. It's a necessity. Pairing paid posts on Facebook, Instagram, and Twitter helps your branch reach a larger audience.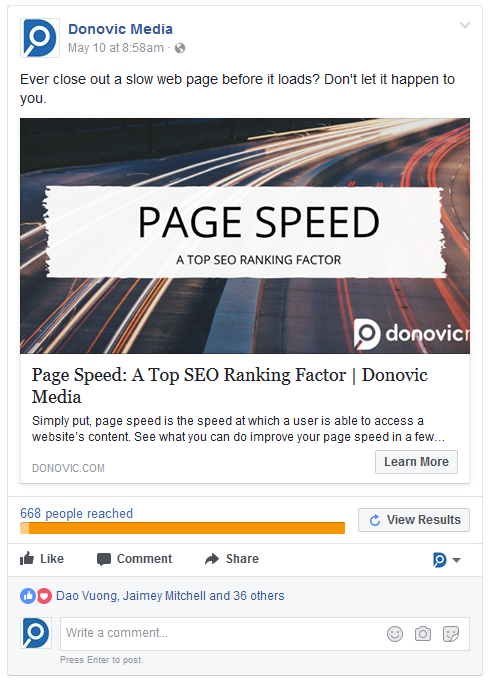 The strategy for all paid social media comes down to identifying the correct demographics to most effectively reach the best target audience for your brand.
Sponsored Posts
Sponsored content is a new and growing way for brands to explore paid advertising. Instead of a banner or traditional placement ad, publishers will post certain content for a price that supports both the sponsoring brand and the publisher's content.
Check out this example of sponsored content in the New York Times, paid for by the Netflix series Orange is the New Black. Our sponsored posts, however, mimic the style and content on the site, offering a commiserate level of content quality making them/you more clickable and searchable.
How It All Works
Donovic Media will deliver quick, measurable, and meaningful paid advertising results.
Audit
We'll find the gaps in your advertising and pinpoint opportunities where paid ads are right for your company. We will go over your current paid ads and adjust as necessary.
Strategize
We'll create a plan of action so that your ad dollars get their maximum efficiency with top results. Whether you choose PPC, social media, banner ads, sponsored posts, or a mix, we'll lay out the perfect strategy.
Review
Once the ads are in action, we'll make sure the strategy is working and adjust accordingly to keep your plan working so you can hit and exceed your goals.
Get a 100% Free SEO Page Audit!
It takes less than 30 seconds.